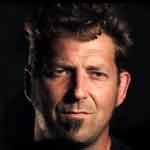 Mark Bjorklund
SUPER RAT FOUNDER

Mark is the youngest of 4 brothers. Growing up as the wrench hander and parts cleaner he was always learning and intrigued by engines, machinery and things that go. Mark rebuilt his first engine at the age of 16 and has continued to enjoy mechanical work. His skill set includes restoration work, bodywork and paint. Most of his career has been spent owning and operating a concrete construction company specializing in structural and commercial flatwork. He is a good leader and team player and a patient teacher. Always aspiring to do great things and is very passionate about motorcycling and bicycles. In 1997 he pedaled his bicycle from Spokane, WA to Denver, CO in just 10 days. He and his brother Carl started land speed racing motorcycles at Bonneville Speedway in 2011 and he achieved his A.M.A. land speed record in 2012 on a specially constructed 1000cc Ducati @ 165MPH breaking the 1975 record of 150MPH. Mark's favorite pastime is off road motorcycling, but also dabbles in art and sketching. He also enjoys playing acoustic guitar. In most things, he is very thorough and detail oriented.
Skills
Engine Building and Tuning
70%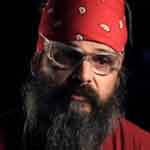 Carl Bjorklund
SUPER RAT FOUNDER

Carl Bjorklund's life is all about gear head stuff. His father Peter was from Finland.  Busy raising a large family Peter didn't have a lot of time to spend on cars or motorcycles. As a young grade school kid in the 70's, Carl was exposed to Hot Rods by a high school kid down the street. By the time Carl was 15, he had a 1973 bug that he fixed up, lowered and built a huge engine for, with the help of his brothers. Through high school, he took every auto shop, wood shop, art and metal shop class he could enroll in. Over the years, Carl continued building Volkswagens and eventually got into Motorcycles as well. In 2011 Carl attended the BUB A.M.A Motorcycle Speed Trials in Bonneville for the first time. In 2013 Carl became a AMA land speed record holder piloting one of his custom built bikes. He has been hooked on land speed racing from that moment on. Carl excels in fabrication and design and is a world class sheet metal worker. He bring over 30 years of fabrication experience to the Super Rat team.  Carl is the creative genius at Super Rat.  Many of the initial motorcycle build concepts come straight from Carl's imagination.
Skills
Painting & Design
Fabrication
Engine Building and Tuning
Tim Clossey
DESIGN ENGINEER & ENGINE TUNING

Tim is the design engineer, CNC machinist, engine tuning specialist and a fabricator here at Super Rat. A Chemical Engineer by training with an MBA from Harvard Tim has been fascinated by all things mechanical since a very young age. As a kid he was well known within his family for disassembling every mechanical or electrical device in the house to try and figure out how they worked. Back then most still worked after reassembly. Once he reached his early teens and earned some spare change working part time repairing equipment for neighbors he started buying and rebuilding old cars and hot rodding engines. He has not stopped since. For almost a decade Tim designed and scratch built off road race buggies and served as Crew Chief for an off road race team. He then joined team Super Rat. A self taught machinist Tim uses CAD/CAM software along with his engineering training to custom design parts. He programs and operates the team's CNC mill and lathe producing numerous custom pieces for customer builds as well as the land speed bikes. If we can dream it, Tim can make it.
Skills
Engineering & Design
Fabrication
Engine Building and Tuning
David Wilcoxen
MAD SCIENTIST

David's love affair with motorcycles began at age 17 when he designed and built his first old school chopper out of a Bonneville 750CC, motorcycles have been in his blood ever since.
David is known for his vision, insight, and ability to convert ideas into decisive actions.  With a successful 35 year history in business building, brokering, negotiating and developing successful relationships has a solid bank of business acumen. David brings a passionate connection and affiliation in the development of prototypes, speed and notable milestone achievements. He has flown at over MK2+ and says with a slight Southern drawl 'speed is a relative state of mind and not a rate at which distance is covered.'
David served in the military reserve, finishing his service in the Texas 36th Airborne. Educated in Mechanical Design and Manufacturing practices, he has led several entrepreneurial private ventures including development of a prototype tactical helicopter called the 'Air Nymph'. Other successful ventures have included Universal Trade and Transport Company and CEO for Commercial Space Management Company, both buying and selling high tech Russian aerospace technology and hardware for American companies under the strict ITAR regulatory guidelines. David still keeps his firearms manufacturing licenses current and holds patents in both Use and Design. David's extraordinary career path placed him in well connected circles related to the US 'SDI' program, where he was often involved in 'skunk works' type projects. Among his many accomplishments David successfully facilitated a difficult cross culture/international partnership between American aerospace giant Lockheed Martin, and Russian firm Energamash, bringing the enterprises together to exchange significant technology, information, and ideas that evolved the 'SDI' program into a bilateral cooperation and joint venture. After retiring from the limelight of these ventures, David has spent the last 13 years building a successful RV resort, increasing land holdings and park use by 330%.
As a master gunsmith David has a passion for vintage firearms and mechanical oddities, also an interest in Japanese arts and culture and was a student of a Japanese living national treasure, learning Kyudo (archery) and Iaido (sword) and as a 20 year practitioner is recognized for his achievements. David's current research project is at the Naval Undersea Warfare Museum, studying the very first torpedo used by the US Navy, the Howell Torpedo c1897.
Skills
Painting & Design
Fabrication
Engine Building and Tuning